Ultimate Probiotic 9 Strains - with Prebiotics for Cats
has a rating of
4.7
stars based on
379
reviews.
Ultimate Probiotic 9 Strains - with Prebiotics for Cats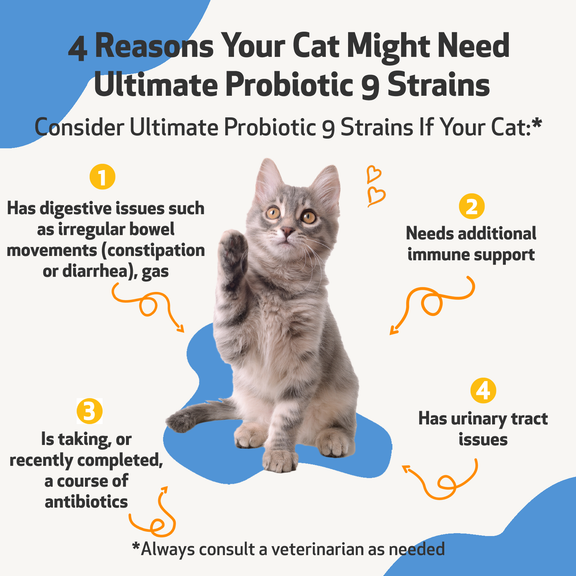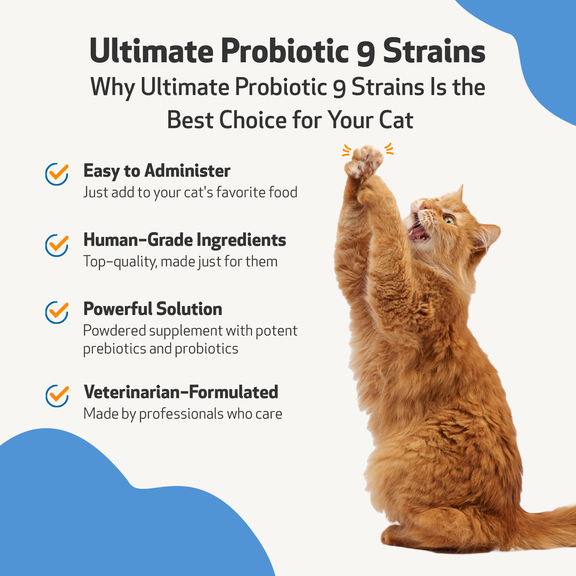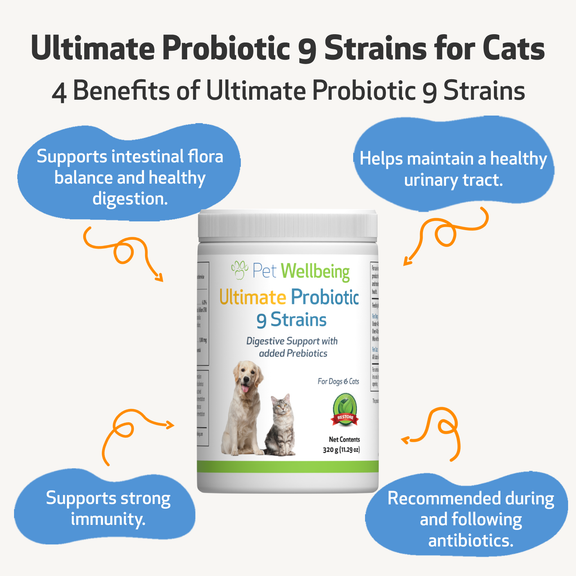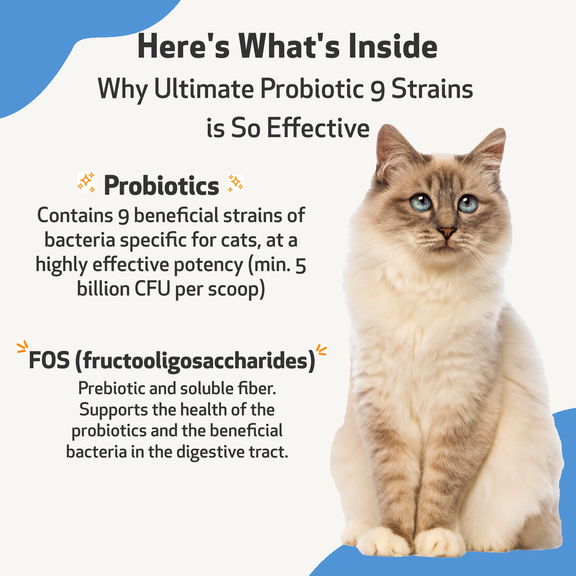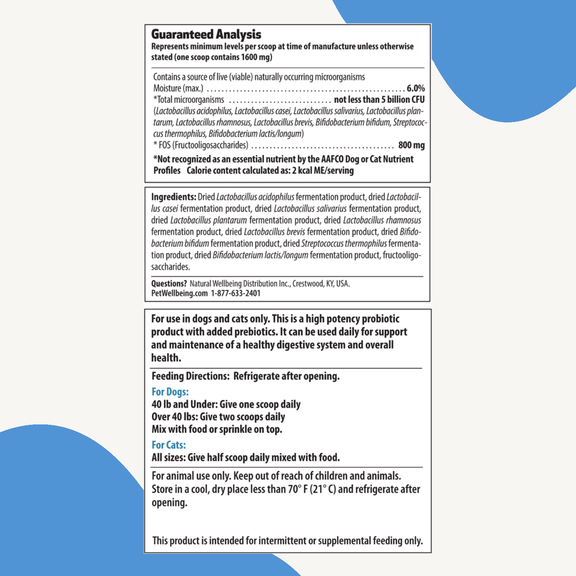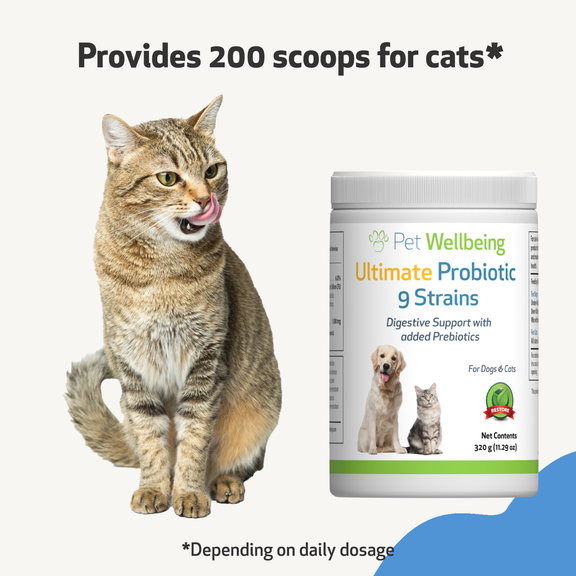 Skip to product information
Ultimate Probiotic 9 Strains - with Prebiotics for Cats
Free Shipping On Orders Over $50
Why Subscribe & Save?
Save 12% on all Subscribe & Save orders.
Lowest price guarantee - better than Amazon.
No fees, no commitments - cancel Subscribe & Save anytime.
Shop risk-free with our 5-Star Experience or it's FREE Guarantee. Risk-free 5-Star Experience or it's FREE Guarantee.
Ultimate support for digestion, food sensitivity, and immune protection
Supports the intestinal tract and good digestion
Helps maintain a healthy urinary tract
Supports strong immunity
Recommended during and following antibiotic treatment
Order Ultimate Probiotic today and support your cat's digestion and overall health
Five-Star Experience or it's FREE
160 g (5.64 oz) size provides 100 scoops (200 servings)
320 g (11.29 oz) size provides 200 scoops (400 servings) and is ideal for multi-pet households
?What should you expect with our products?
Legal Disclaimer: Results may vary from pet to pet
What is Ultimate Probiotic 9 Strains?
This is a high potency probiotic supplement for pets, supplying nine different strains of probiotics with added prebiotics. Ultimate Probiotic 9 Strains contains beneficial strains specific for dogs and cats, at a highly effective potency.
Beneficial bacteria exist throughout the bodies of humans and animals. They are vital to our existence and regulate numerous physiological processes. These organisms are passed from a mother to the offspring during birth and begin to populate the body inside and out, including the mucosa of the digestive tract and the layers of the skin. Throughout life, there are many things we come into contact with that can harm this microbiome or microflora, as it is sometimes called. Stressors can include medications, infections, environmental toxins and unhealthy foods.
Ingesting beneficial bacteria through foods and supplements supports the microbiome to stay strong and healthy. Probiotic bacteria are a normal and necessary part of the body's defense against harmful pathogens. Without these beneficial bacteria, the body is less resistant to infections, has difficulty digesting foods and displays less neurological stability.
NOTE: The ingredient amounts stated on the label will remain stable for approximately 24 months after the date of manufacture. Storage conditions can prolong or decrease the stability of the probiotics. It is recommended to keep your container in the fridge after opening. Be sure no moisture gets into the container. There is no specific expiry date on this product due to the impact of differing storage conditions once it has been purchased.
FOS (Fructooligosaccharides) are added as a prebiotic and soluble fiber to support the health of the probiotics as well as the beneficial bacteria in the digestive tract.
What is Ultimate Probiotic 9 Strains Used For?
Increasing research demonstrates just how important a healthy balance of intestinal bacteria really is. Of all the cells that comprise the immune system, approximately 70% of those cells are located in the intestines. When pathogens are orally introduced into the body, the cells in the gut provide a major part of the body's natural defenses and ability to fight harmful bacteria and viruses. This is true for humans as well as animals. Put simply, healthy gut flora help maintain a strong immune system.
The key to maintaining a healthy balance of flora is to incorporate probiotics into a daily regimen and/or make probiotic-rich foods part of a regular diet. Probiotics are found in lacto-fermented foods such as fermented sauerkraut (i.e., not the type made with vinegar). Fermented dairy products such as unsweetened yogurt and kefir also help supply the body with beneficial bacteria.
Why do so many animals require probiotics for optimal health? As mentioned, the factors that can damage this vital microbiome in the digestive tract range from unhealthy foods to environmental toxins to medications. A single course of antibiotic treatment, though sometimes absolutely necessary, can wipe out the intended harmful bacteria it is meant to destroy but also the beneficial bacteria, leaving the body vulnerable to recurring infections, digestive problems, allergies and more.
Besides the maintenance of good health, there are many conditions that benefit from the use of probiotics:
Sensitivities, particularly diet-related
Immunity
Bowel health and Digestion
Urinary tract
Skin disorders
Physical and emotional stress
Anxiety
Before and after kennel boarding
Diet change
If taking medications, especially antibiotics
Always seek the consultation of your veterinarian, as needed.
A note from our veterinarian...
I can't stress enough the importance of regular feeding of probiotics to your cat. It might help to think of probiotics as a food and in many ways they are. They are a part of food that most people eat very little of in their modern diets and something cats receive little to none of, unless your cat enjoys regular servings of fermented sauerkraut. I know my cat doesn't!
Probiotics are safe and effective and Pet Wellbeing's Ultimate Probiotic 9 Strains supplies the correct strains, in the correct potency, to deliver a comprehensive product.
Ultimate Probiotic 9 Strains stays freshest if refrigerated after opening.
My recommendation is to incorporate probiotics into your pet's diet any time and not wait until there is a big need. It is some of the best insurance you can provide for the future health of your pet.
Does it Come With a Guarantee?
Yes! Ultimate Probiotic 9 Strains comes with a Five-Star Experience or it's FREE guarantee.
Why Choose Ultimate Probiotic 9 Strains?
Selectively Chosen Ingredients:  This formula is entirely prepared from ingredients from trusted sources only.
Every Batch Tested:  All raw materials are tested for identification and purity. Every batch of our Ultimate Probiotic 9 Strains is tested to ensure the highest quality and purity. Every single batch.
GMP Facility:  Nationally recognized quality control procedures are meticulously monitored. Our customers are protected because we ensure that the highest standards of manufacturing are strictly adhered to.
It's Guaranteed:  In addition to the superior quality of our products, you are also protected by our Five-Star Experience or it's FREE guarantee.
Manufactured in the United States
Who Makes Ultimate Probiotic 9 Strains?
Ultimate Probiotic 9 Strains is made by Pet Wellbeing, founded in 2001. Our goal? To bring the wisdom and experience of our caring holistic veterinarians to your pet. When your pet is healthy, you're happy.
To fulfill our vision, our on-staff, holistic veterinarians have developed formulas using time-honored, traditional uses of herbs and integrated the latest scientific research. It is our aim to produce the best products for your pet that we can.
These statements have not been evaluated by the Food and Drug Administration. This product and information is not intended to diagnose, treat, mitigate or prevent any disease or condition.
How to Administer Ultimate Probiotic 9 Strains
All sizes of cats: Give half scoop daily.
Mix with food or sprinkle on top.
Storage:

Store in a cool, dry place at a temperature of 70 degrees Fahrenheit (21 degrees Celsius) or below. Refrigerate after opening.
Cautions
There are no known side effects or precautions associated with Ultimate Probiotic 9 Strains.
As a general rule, it is not recommended to administer anything else if your pet is on blood thinners.
Always seek the consultation of your veterinarian as needed.
For animal use only. Keep out of reach of children and animals.
This product is intended for intermittent or supplemental feeding only.
Ultimate Probiotic 9 Strains is Formulated With:
Moisture (max.) ....................................................................... 6.0%
*Total microorganisms .......................... not less than 5 billion CFU per serving     
(Lactobacillus acidophilus, Lactobacillus casei, Lactobacillus salivarius, Lactobacillus plantarum, Lactobacillus rhamnosus, Lactobacillus brevis, Bifidobacterium bifidum, Streptococcus thermophilus, Bifidobacterium lactis/longum)
*FOS (Fructooligosaccharides) ............................................. 800 mg per serving
*Not recognized as an essential nutrient by the AAFCO Dog or Cat Food Nutrient Profiles.
Contains a source of live (viable) naturally occurring microorganisms.
Ingredients:
Dried Lactobacillus acidophilus fermentation product, dried Lactobacillus casei fermentation product, dried Lactobacillus salivarius fermentation product, dried Lactobacillus plantarum fermentation product, dried Lactobacillus rhamnosus fermentation product, dried Lactobacillus brevis fermentation product, dried Bifidobacterium bifidum fermentation product, dried Streptococcus thermophilus fermentation product, dried Bifidobacterium lactis/longum fermentation product, fructooligosaccharides.