Itch & Scratch Chewies for Dogs
has a rating of
4.4
stars based on
288
reviews.
Itch & Scratch Chewies for Dogs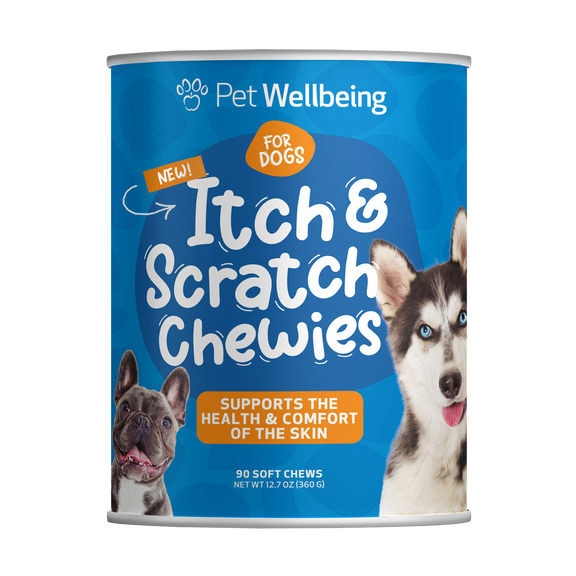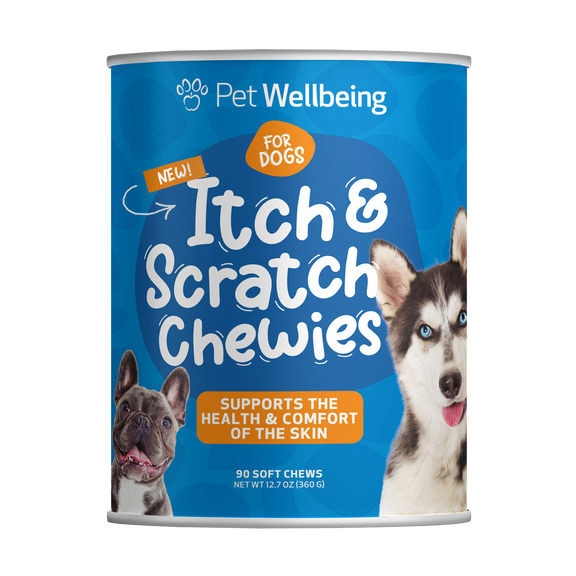 Skip to product information
Itch & Scratch Chewies for Dogs
Free Shipping On Orders Over $50
Why Subscribe & Save?
Save 12% on all Subscribe & Save orders.
Lowest price guarantee - better than Amazon.
No fees, no commitments - cancel Subscribe & Save anytime.
Shop risk-free with our 5-Star Experience or it's FREE Guarantee. Risk-free 5-Star Experience or it's FREE Guarantee.
Soothes itching and scratching, hot spots, itchy paws, licking or chewing
Supports the comfort and health of your dog's skin
Helps maintain normal skin hydration and integrity

Promotes healthy skin and coat
Suitable for sensitive skin
Order Itch & Scratch Chewies today for relief of your dog's itchy paws and skin!
90 soft chews (approx. 4 grams per chew)
Vegetarian chicken flavor
No meat protein (a common allergen) or animal by-products
No wheat, corn, soy, dairy, or artificial preservatives

Earth-friendly, 100% recyclable and sustainable packaging
Five-Star Experience or it's FREE
Made in USA
?What should you expect with our products?
Legal Disclaimer: Results may vary from pet to pet
What are Itch & Scratch Chewies for Dogs?
Itch & Scratch Chewies are a vet-formulated, balanced blend of herbs and nutrients that soothe the discomfort of itching and help maintain your dog's healthy skin integrity. 
Featuring a classic four-herb formula used in traditional Chinese medicine for 'damp heat' including itching and reddened, swollen skin, Itch & Scratch Chewies target the underlying imbalances that cause the skin to become uncomfortably red and sometimes unbearably itchy, including on the paws and between the toes. Together with skin-supportive nutrients including omega-3 essential fatty acids and vitamins C and E, Itch & Scratch Chewies work to restore and maintain healthy skin from the inside out.
Itch & Scratch Chewies do not contain wheat, corn, soy, dairy, beef, chicken, or animal by-products, common skin allergens that are often found in dog foods and treats.
What are Itch & Scratch Chewies helpful for?
Itchy skin is an increasingly common reason for visits to the veterinarian. In canines, the primary way that an allergy manifests is through the skin.
Allergies that affect the skin may appear as:
Increased and sometimes incessant itching and scratching and/or licking
Redness
Moist or dry, flakey skin; scabbing
Itchy ears (and possibly ear infections)
Swollen and itchy paws
The itching may be all over the body or localized in one area. Your dog's behavior may also change since a constant state of itchy discomfort can quickly lead to irritability, disrupted sleep, exhaustion, and snapping.
Itch & Scratch Chewies provide support for itchy, red, dry or moist skin that can arise from allergic responses that affect your dog's skin. Repeated scratching may also cause the skin to break and create an opportunity for infection.
If your dog is experiencing hot spots, itching, scratching, or itchy paws and legs, Itch & Scratch Chewies can help!
What causes skin allergies?
Like people, canines are susceptible to irritants and allergens they encounter in their environment or in their diet. Some dog breeds have a greater incidence of allergies that can affect their skin. The most common allergens are environmental (known as contact allergy or atopy), ingredients in foods, and flea and insect bites. Secondary skin reactions may occur due to another health issue or a medication.
Common allergens include:
Pollens and grasses
Dust, dust mites, and molds
Fragrances and other chemicals including those found in laundry detergents, dog shampoos, and household cleaners
Cigarette smoke
Prescription medication (including flea medication or medicated flea products)
Insect bites (including fleas)
Dander and feathers (may be in pillows, duvets or bedspreads)
Foods such as dairy products, beef products, soy, wheat, corn, chicken, and chicken by-products
Foods or treats containing food coloring
Allergic responses may also cause respiratory-related symptoms such as:

Sneezing
Runny, itchy nose
Breathing difficulties (due to airborne allergens)
To help support breathing or sneezing related to allergies, see Nettle-Eyebright Gold.
Always consult your veterinarian as needed.
Is it an allergy - or just dry skin?
A lower indoor or outdoor humidity can cause dryness in the environment and the skin to become dry and itchy. Monitor whether your dog starts to itch when you turn on the heat or air-conditioning in your home, or when the air becomes drier with a change of seasons. You can test the humidity in your house with a hygrometer from a hardware or home improvement store. An optimal humidity range is considered to be 35-50%. If the air in your home becomes too dry, a humidifier can provide the necessary humidity your dog (and you) may need to stay comfortable and healthy.
Allergic-type symptoms may be clues that your dog has another type of disorder, so be sure to have your dog examined by a veterinarian.
Why choose Itch & Scratch Chewies from Pet Wellbeing?
Developed by our team of experienced veterinarians who understand the unique needs of your pet.
Manufactured in the USA in FDA-registered, GMP-certified facilities.
Third-party tested to ensure the highest quality control standards.
We adhere to the Center for Veterinary Medicine (CVM) national guidelines, in accordance with FDA good guidance practices regulations for pet supplements.
Trusted care since 2001.

Five-Star Experience or it's FREE.

Directions for Use
Administer half of the daily amount for the first week. After one week, administer the full amount. Daily amount can be divided between morning and evening.
| | |
| --- | --- |
| Weight | Soft Chews per Day |
| | |
| 25 lbs (11 kg) and under | 1 |
| 26 - 50 lbs (12 - 23 kg) | 2 |
| 51 - 75 lbs (24 - 34 kg) | 3 |
| 76 - 100 lbs (35 - 45 kg) | 4 |
| Over 100 lbs (over 45 kg) | 5 |
Cautions
If animal's condition worsens or does not improve, stop product administration and consult your veterinarian.
Safe use in pregnant animals or animals intended for breeding has not been proven.
If stools become loose, decrease to half the daily recommended amount and resume recommended amount after two weeks.
An examination from a veterinarian is recommended prior to using this product.
Not for human consumption. Keep out of reach of children and animals. In case of accidental overdose, contact a health professional immediately.
Active ingredients per Soft Chew (approx. 4 g):
Proprietary herbal blend ................................ 500 mg:
Chinese Pearl Barley seed

 

(Coix lacryma-jobi)
Phellodendron bark

 

(Phellodendron amurense)
Black Atractylodes rhizome

 

(Atractylodes lancea)
Cyathula root

 

(Cyathula prostrata)
DHAgold® (Algae-derived Omega-3) ............. 500 mg
Vitamin E (dl-Alpha Tocopherol Acetate) ......... 27 mg
Vitamin C (Ascorbic Acid) ................................. 25 mg
Beta-Carotene (Provitamin A) ............................. 2 mg
DHAgold® is a trademark of DSM.
Chinese Pearl Barley, Phellodendron, Black Atractylodes, Cyathula: A classic herbal blend used in traditional Chinese medicine for 'damp heat' conditions including itching, reddened, and swollen skin. Helps to 'dry dampness and clear heat' to provide comfort from itching and promote healthy integrity of the skin.
DHAgold® (Algae-derived Omega-3): Omega-3 essential fatty acids (EFAs) are incorporated into every cell membrane throughout the body, including the skin. EFAs are important for retaining moisture in the epidermis (uppermost skin layer) and maintaining healthy skin integrity. Proper skin hydration may help protect from breakage which can result from repeated scratching and create an opportunity for infection.
Vitamin E: An important antioxidant for protecting the skin from free-radical damage, vitamin E also helps maintain healthy skin hydration.
Vitamin C: In addition to its role as an antioxidant, vitamin C promotes proper cross-linkage of collagen fibers in the skin's dermis. Collagen aids in maintaining supple, resilient skin that is resistant to breakage. Vitamin C also plays an important role in healthy immune function.
Beta-Carotene (Provitamin A): Provides potent antioxidant protection and also serves as a precursor to vitamin A. Vitamin A is an essential nutrient needed for maintaining healthy skin.
Inactive ingredients: Brewer's yeast, buffered white distilled vinegar, citric acid, coconut glycerin, coconut oil, natural vegetarian chicken flavor, oat flour, rosemary extract, sunflower lecithin, sunflower oil, sweet potato, tapioca starch, water.