Detox Gold for Cats - Gentle Detoxification & Elimination Support
has a rating of
4.6
stars based on
39
reviews.
Detox Gold for Cats - Gentle Detoxification & Elimination Support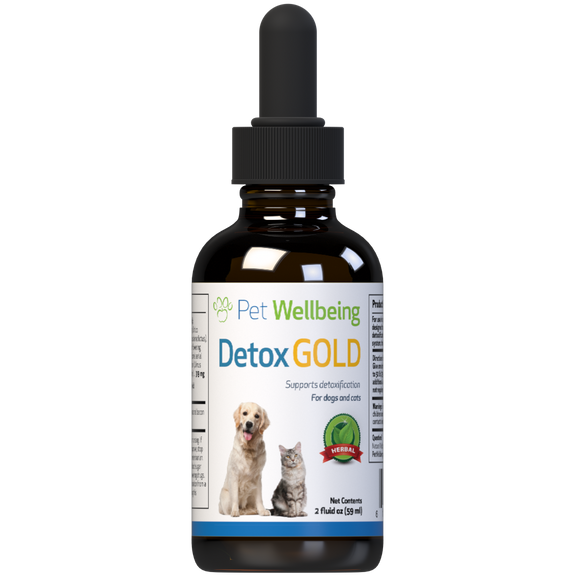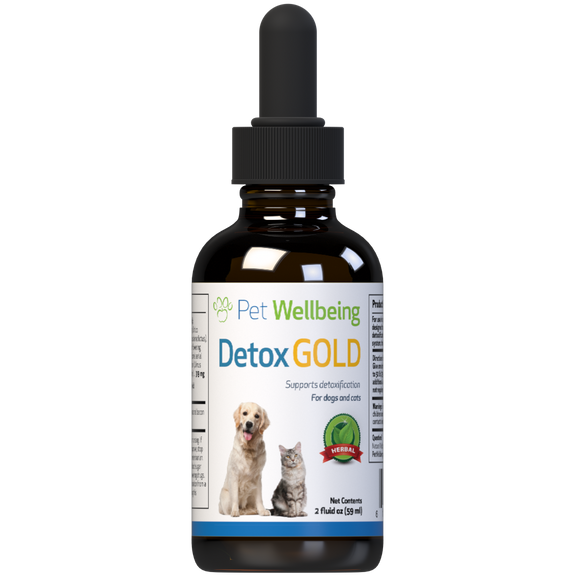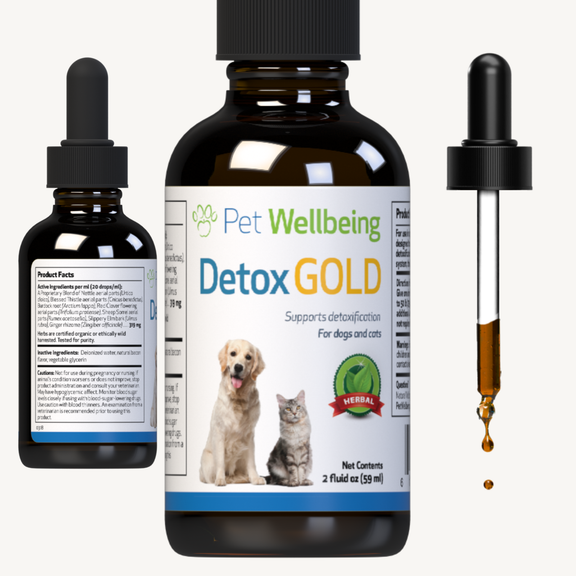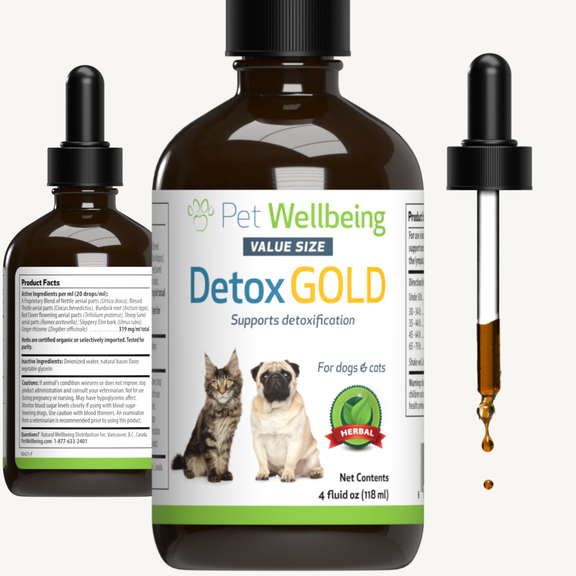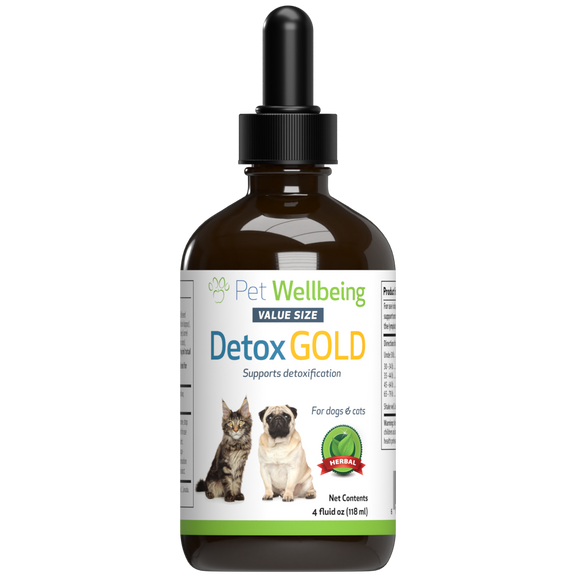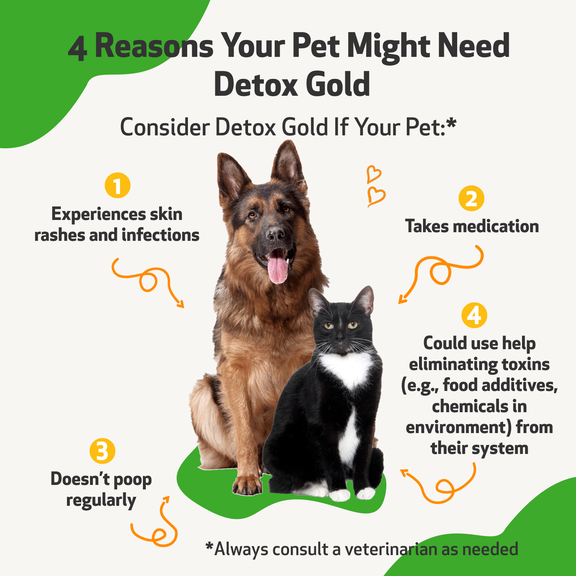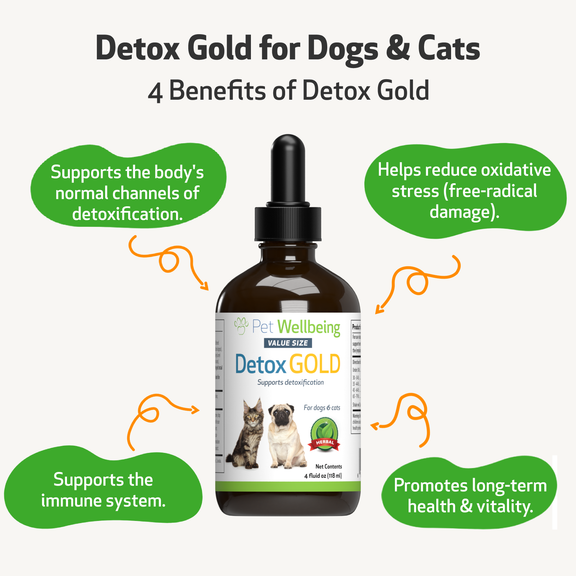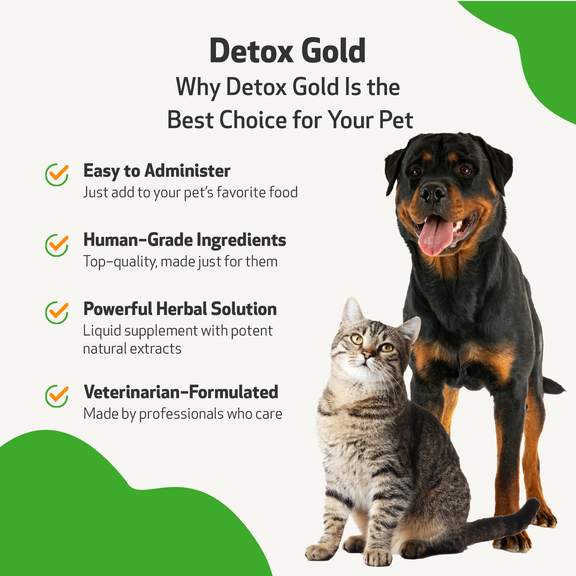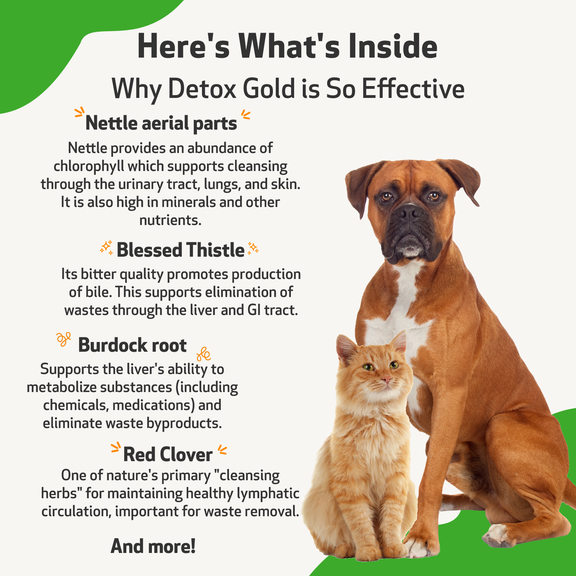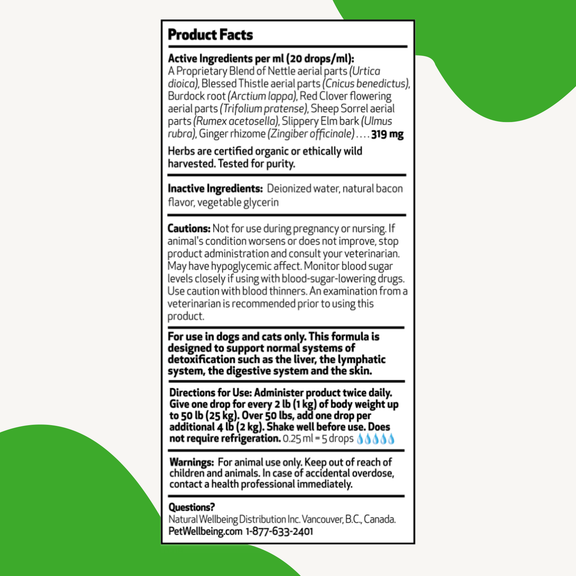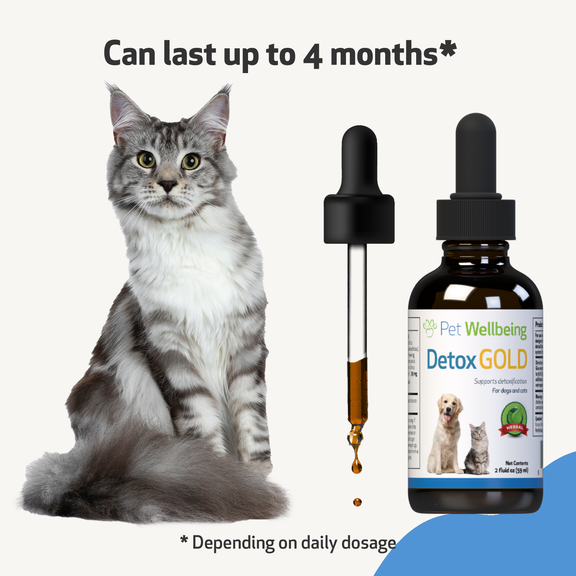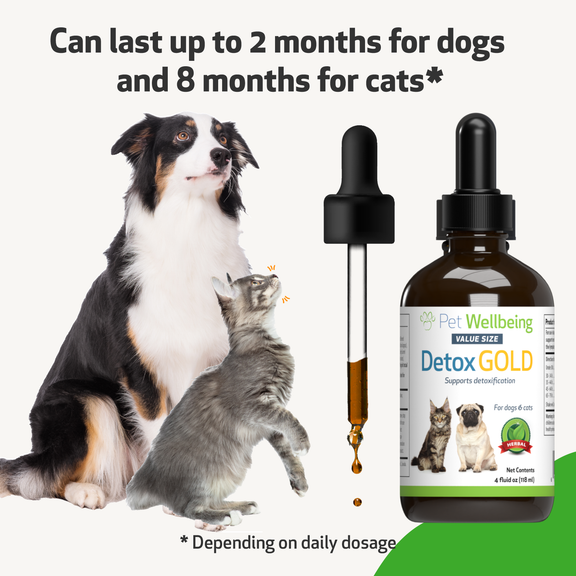 Skip to product information
Detox Gold for Cats - Gentle Detoxification & Elimination Support
Free Shipping On Orders Over $50
Why Subscribe & Save?
Save 12% on all Subscribe & Save orders.
Lowest price guarantee - better than Amazon.
No fees, no commitments - cancel Subscribe & Save anytime.
Shop risk-free with our 5-Star Experience or it's FREE Guarantee. Risk-free 5-Star Experience or it's FREE Guarantee.
Essential detoxification support for cats
Support for the immune system
Supports vital systems of detoxification
Helps to reduce oxidative stress
Promotes long-term health and vitality
Order Detox Gold today and help your cat re-establish the essence of a healthy, vibrant life!
90-day money-back guarantee
2 oz (59 ml) is a 4-month supply for most cats
4 oz (118 ml) is an 8-month supply for most cats
Calculate Dose - How long will this last my pet?
?What should you expect with our products?
Legal Disclaimer: Results may vary from pet to pet
What is Detox Gold?
Based on our original Life Gold formula, Detox Gold was reformulated specifically to support the body's normal systems of detoxification.
The natural herbal ingredients in Detox Gold support your cat's channels of elimination to help clear out waste material (i.e., to detoxify). Unhealthy substances can enter the body in food (preservatives and other chemicals), from the environment (herbicides/pesticides in gardens and lawns, or air pollution) and even from the products we use in our homes.  
Systems and organs of elimination include the liver, GI tract, lymphatics, lungs, skin, and kidneys. Everyday exposure to toxins in our environments, chemicals in food, or medications are processed by the body and need to be eliminated. The largest organ of detoxification that often isn't considered is the skin. Common sensitivities to foods or environmental conditions may show up on the skin.
Detox Gold supports your feline's long-term vitality, especially if he or she experiences sensitivities to foods or environmental substances. You may not even know what your cat is sensitive to. It's not usually easy to figure out.
Keeping your pet healthy by regular detoxification 
Our pets are exposed to far more pollutants than we are. Inside and outside, they live closer to the ground than we do. They can inhale or ingest pesticides, insecticides, fertilizers, and other pollutants. In the home, they are breathing in the residues of cleaning products and dust. They also pick up these toxins onto their paws which they then lick, transferring them into their gastrointestinal system.
Furthermore, many commercial cat foods contain large number of chemical preservatives and artificial colors and flavors, as well as fillers that our felines can't digest. The result of our pets being exposed to all of these toxins is that veterinarians are regularly reporting illnesses that were rarely seen a generation ago. Normal immune system responses can become overwhelmed by the accumulation of toxins. A breakdown in the immune system can also allow for microorganisms to proliferate, resulting in illness.
Common symptoms of animals who may benefit from detoxification support include:
Skin rashes and recurrent infections
Constipation and diarrhea
Urinary tract infections
Tumors
Liver problems
Kidney problems
Respiratory problems
Periodic detoxification, as a matter of course, may help to prevent the accumulation of toxic materials in a cat's body and support their organs of elimination. A cleansing period is like giving the body a "tune-up". You wouldn't expect your car to function well without a regular tune-up, and the body is the same. A long, healthy life is the result of treating the body well, regularly.
Will Detox Gold really help my pet?
Depending on the current health status of your pet, there may or may not be noticeable changes. Detox Gold works to support and maintain the organs of elimination without harsh purging or over-stimulation. Gentle detoxification is a process that works over days and weeks to restore a balanced state of health. In older felines or felines with long-standing health issues, there may be a more noticeable change and increase in vitality.
How long will it take before I see results?
Many pet owners have reported that they notice changes in their pet's health after about one month of usage. A detoxification process for a cat should not occur quickly or with dramatic purging, such as urgent bowel movements. This would undoubtedly leave a cat feeling uncomfortable and depleted of energy. Detox Gold does not induce purging or discomfort.
Does it Come With a Guarantee?
Yes! Detox Gold comes with a 90-day money-back guarantee.
Why Choose Detox Gold for Your Feline Friend?
Certified Organic and Ethically Wild-Harvested:  This formula is entirely prepared from organically grown and ethically wild-harvested herbs.
Good Manufacturing Practices:  All of our formulas are manufactured in a facility that adheres to Good Manufacturing Practices.
Full Spectrum Extract:  The full biochemical spectrum of the herbs is preserved  to ensure the potency of the extract.  All raw materials are tested for identification and purity.
Every Batch Tested:  Every batch of our Detox Gold is tested to ensure the highest quality and potency. Every single batch.
FDA-Registered Facility:  Our manufacturing facility is FDA-registered.  Strict quality control procedures are meticulously monitored.
FDA Center for Veterinary Medicine Guidelines:  PetWellbeing.com complies with the provisions of the CVM's good guidance practices for pet dietary supplements.  All ingredients and caution statements adhere to these national guidelines.
It's Guaranteed:  In addition to the superior quality of our products, you are also protected by our 90-day money-back guarantee.
Who Makes Detox Gold for Cats?
This product is made by PetWellbeing.com, founded in 2001.
Our goal? To bring the wisdom and experience of our caring holistic veterinarians to your pet. When your pet is healthy, you are happy.
To fulfill our vision, our on staff, holistic veterinarians have developed formulas using time-honored, traditional uses of herbs and integrated the latest scientific research. It is our aim to produce the best products for your pet that we can.
Administer Detox Gold twice daily:
Under 30 lb: Give one drop per 2 lb (1 kg) of body weight
Shake well before use. Does not require refrigeration.
BEST way to give drops: Add drops to a small portion of a favorite food or treat and ensure the entire amount is consumed. Detox Gold is enhanced with delicious, natural bacon flavor. We recommend administration of the drops in a way that your cat will like best.
TIP! From Dr. Jan: You can safely double the administration amount of this product (i.e., give one drop per pound of body weight) as required.
Use With Caution
If animal's condition worsens or does not improve, stop product administration and consult your veterinarian.
Not for use during pregnancy or nursing.
May have hypoglycemic effect. Monitor blood sugar levels closely if administering blood-sugar-lowering drugs.
Use caution with blood thinners.
An examination from a veterinarian is recommended prior to using this product.
Not for human consumption. Keep out of reach of children and animals. In case of accidental overdose, contact a health professional immediately.
Detox Gold is Formulated With:
Nettle aerial parts (Urtica dioica): Sometimes referred to in herbal medicine as a "blood tonic", Nettle is high in minerals, chlorophyll, and contains histamine and Vitamin C. Nettle is used to help support the urinary tract, the lungs, the skin, and provide nutrition through easily-absorbed nutrients.
Blessed Thistle herb (Cnicus benedictus): A long-used traditional plant, this restorative herb has been used for its detoxifying and cleansing properties, as well as for its antioxidant components and supporting normal cell regeneration.
Burdock root (Arctium lappa): Burdock has been used for providing help to the liver (bile secretions), to support a healthy appetite, and for the maintenance of healthy cells in the presence of chemicals.
Red Clover flowering aerial parts (Trifolium pratense): One of nature's primary "cleansing" herbs for lymphatic support and for maintenance of skin health.
Sheep Sorrel herb (Rumex acetosella): High in vitamin C and minerals, this herb has been widely used for lymphatic health, for health of the digestive tract, and as a detoxifier.
Slippery Elm Bark (Ulmus rubra): High in mucilage, this slightly sweet tasting bark has been used for centuries in North America for soothing the digestive tract and absorbing toxins. It is highly nutritious with lots of antioxidants.
Ginger rhizome (Zingiber officinale): Ginger has a long, traditional use for nausea, as an appetite stimulant, and for its warming, fortifying effect.
... 319 mg per ml
Herbs are certified organic or ethically wild-harvested.
Inactive ingredients: Deionized water, natural bacon flavor, vegetable glycerin.