Kidney Support Chewies for Dogs
has a rating of
4.5
stars based on
221
reviews.
Kidney Support Chewies for Dogs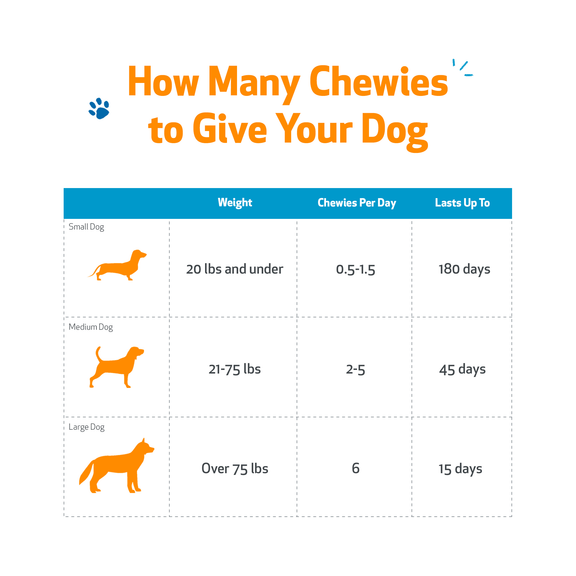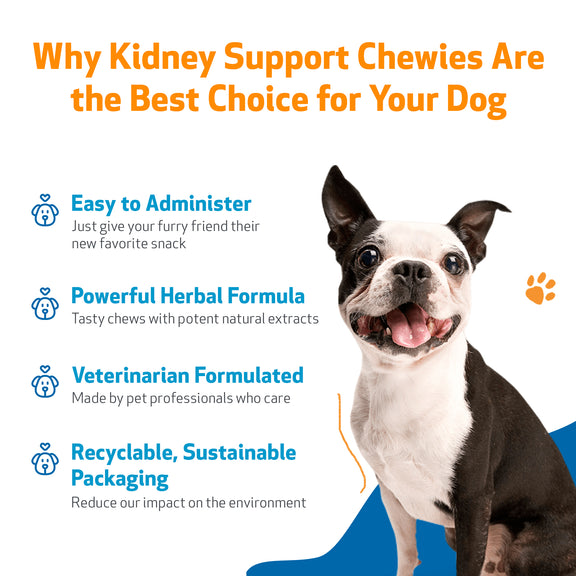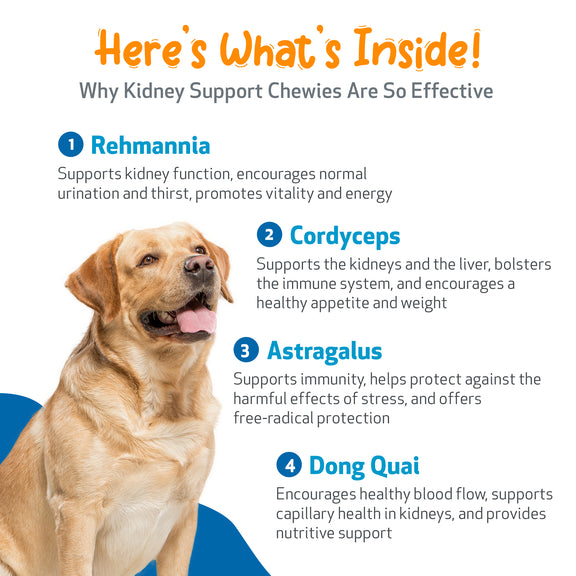 Skip to product information
Kidney Support Chewies for Dogs
Free Shipping On Orders Over $50
Why Subscribe & Save?
Save 12% on all Subscribe & Save orders.
Lowest price guarantee - better than Amazon.
No fees, no commitments - cancel Subscribe & Save anytime.
Shop risk-free with our 5-Star Experience or it's FREE Guarantee. Risk-free 5-Star Experience or it's FREE Guarantee.
Supports healthy and stable kidney function and maintenance of:
Normal urine output and thirst (fluid balance)
Healthy appetite and weight
General vitality and energy
Healthy immunity
Order Kidney Support Chewies today and help your dog maintain healthy kidneys and a better quality of life!
90 soft chews (approx. 4 grams per chew)
Vegetarian chicken flavor
No meat protein (a common allergen) or animal by-products
No wheat, corn, soy, or artificial preservatives

Earth-friendly, 100% recyclable and sustainable packaging
Five-Star Experience or it's FREE
Made in USA
?What should you expect with our products?
Legal Disclaimer: Results may vary from pet to pet
What are Kidney Support Chewies for Dogs?
Like our Kidney Support Gold liquid but in a mouth-watering soft chew that your dog will love!
Kidney Support Chewies have the same blend of veterinarian-formulated herbal ingredients to support your dog's kidney function. These herbs have been extensively studied for their restorative and tonifying actions. They help maintain vitality and provide nutrition in a way that your dog can readily use.
This formula can be an essential part of your dog's long-term health regime for supporting normal kidney function and the maintenance of:
Normal urine output and thirst (fluid balance)
Healthy appetite and weight
General vitality and energy
Healthy immunity
TIP! Your dog may like both: Kidney Support Gold liquid one day, Chewies the next!
What are Kidney Support Chewies helpful for?
The kidneys are the organ most likely to cause health problems in dogs as they age, with chronic renal (kidney) failure a leading cause of illness in older dogs. Kidney maintenance is indicated for many dogs as they enter their senior years. 
If your vet has discussed kidney support with you, consider Kidney Support Chewies. They can be a beneficial part of your dog's kidney health program when support of normal renal function is indicated.
Kidney Support Chewies may help maintain:
Normal fluid and electrolyte balance
Normal levels of blood urea and creatinine (products of metabolism excreted by the kidneys)
The health of the nephrons (the functional parts of the kidneys that help to filter blood)
Normal protein excretion in the urine
The body's normal immune system response to bacteria and viruses
NOTE! This product is not a substitute for veterinary care. If your dog is suffering from any form of kidney disease, see your vet to discuss conventional treatment options. Treatments may include intravenous fluid therapy, dialysis, or various drugs. A low sodium diet is often recommended, as high blood pressure often accompanies kidney failure. A reduced protein diet is also often recommended.
Additional considerations:
Be sure that your dog is receiving adequate water intake, as this is vital to the health of the kidneys. Ensure that a fresh, clean water source is available at all times. Try encouraging your dog to drink by providing different bowls or using "pet fountains." Flavoring the water may entice your pet to drink more and lower their risk of dehydration.
Always consult your veterinarian as needed.
Why choose Kidney Support Chewies from Pet Wellbeing?
Developed by our team of experienced veterinarians who understand the unique needs of your pet.
Manufactured in the USA in FDA-registered, GMP-certified facilities.
Third-party tested to ensure the highest quality control standards.
We adhere to the Center for Veterinary Medicine (CVM) national guidelines, in accordance with FDA good guidance practices regulations for pet supplements.
Trusted care since 2001.
Five-Star Experience or it's FREE.
Directions for Use
Administer daily. Daily amount can be divided between morning and evening.
| | |
| --- | --- |
| Weight | Soft Chews per Day |
| | |
| 10 lbs (4.5 kg) and under | 1/2 |
| | 1 |
| 16 - 20 lbs (8 - 9 kg) | 1-1/2 |
| 21 - 30 lbs (10 - 14 kg) | 2 |
| 31 - 40 lbs (15 - 19 kg) | 3 |
| 41 - 50 lbs (20 - 23 kg) | 4 |
| 51 - 75 lbs (24 - 34 kg) | 5 |
| Over 75 lbs (over 34 kg) | 6 |
Cautions
If animal's condition worsens or does not improve, stop product administration and consult your veterinarian.
Safe use in pregnant animals or animals intended for breeding has not been proven.
Do not use with blood thinners.
Not to be used if animal has diarrhea.
An examination from a veterinarian is recommended prior to using this product.
Not for human consumption. Keep out of reach of children and animals. In case of accidental overdose, contact a health professional immediately.
Active ingredients per Soft Chew (approx. 4 g):
Proprietary herbal blend .............. 400 mg:
Rehmannia root (Rehmannia glutinosa)
Cordyceps mycelium (Cordyceps sinensis/militaris)
Astragalus root (Astragalus membranaceus)
Dong Quai root (Angelica sinensis)
Rehmannia: Also known as Dihuang, Rehmannia is a 'tonifying' herb used extensively in the traditional Chinese herbal repertory. It is commonly used to 'replenish the Kidneys,' support normal urination, 'fortify the blood,' and strengthen capillary integrity. Rehmannia is also beneficial for strengthening vitality, especially after illness.
Cordyceps: One of several notable medicinal mushrooms, Cordyceps supports normal kidney, liver, and immune system function. Its tonifying actions are restorative and help maintain overall energy and vitality by supporting normal metabolic processes throughout the body.
Astragalus: Studies using Astragalus in combination with Dong Quai root have shown that these herbs, together, may have an effect on the kidneys to normalize gene expression and help maintain normal, stabilized kidney function. A premier herb in traditional Chinese medicine, Astragalus is widely used for supporting immune health, helping to restore vitality after illness, and for its adaptogenic properties.
Dong Quai: This root is used widely in China for its ability to support normal blood flow, red blood cell production, and the subsequent transport of oxygen to the tissues. As noted above, Dong Quai has been studied in conjunction with Astragalus for supporting healthy kidney function.
Inactive ingredients: Buffered white distilled vinegar, citric acid, coconut glycerin, coconut oil, natural vegetarian chicken flavor, oat flour, rosemary extract, sunflower lecithin, sunflower oil, sweet potato, tapioca starch, water.